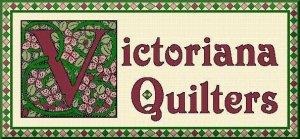 For quilt pattern notices & more quilty fun through your Facebook, click the 'Like' button below...Thanks!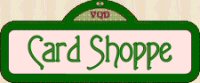 A large resource for quilters', including:
Free Original quilt patterns (with membership)
Free Block of the Month
Free Quilt Patterns
Free printable quilt labels
Free Charity Quilt patterns
Free Beginner's Quilting Online Class and Free Crazy Quilt Online Workshop (with membership)
Free quilting technique instructions, designs and information in the Library
Free Quilting Calculator Charts
Free printable quilt graph paper
Free printable quilty bookmarks
Quilt Gallery
Quilting Stories
Used Quilt Books listing
And more!


December, 2014

2014 Sew-Along Series: Butterfly Garden ~ Part #12 - Final Part
This is an12 part Sew-Along. Come join us in making this lovely quilt!

The complete pattern is available to purchase, and non-members can join in with the Sew-Along too.

2015 Member's Series - The Sampler

Free Block of the Month: Celebrating Flowers - Birthday Block Series ~ November & December Blocks are delayed...until 2015!

Newest Quilt Pattern: Scrap Happy
This quilt pattern is quick and easy - and uses up your scrap squares!

It's currently free to members, until the end of December.

Also Available to Purchase for Non-Members!

Design of the Month: Collect All of the 2014 Designs!
You can use these designs as quilting motifs or a redwork/embroidery project!
Collect the New One Each Month - Exclusively through the Newsletter!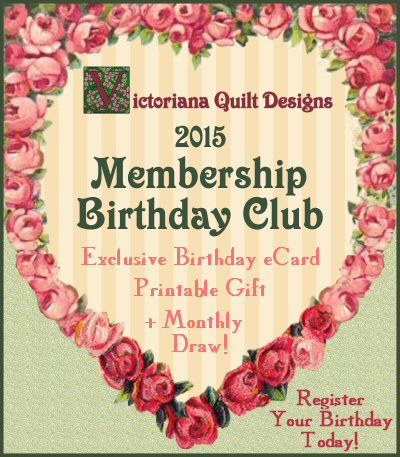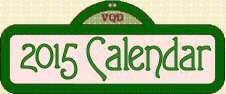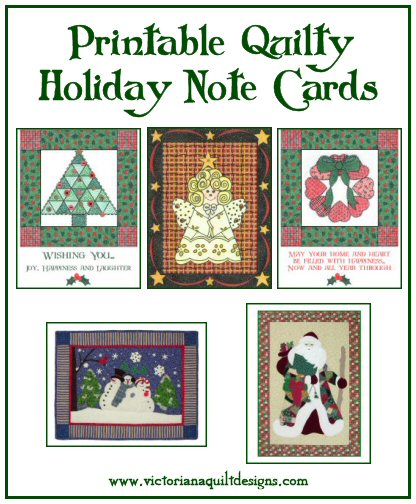 Plus see all of my quilty note cards here!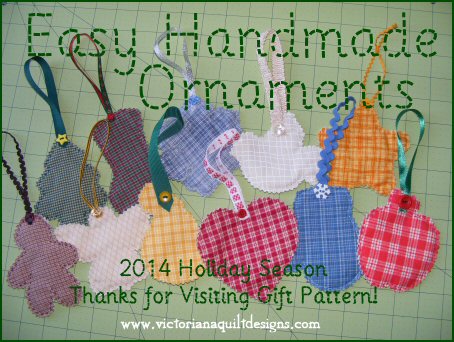 Easy Handmade Ornaments Tutorial


Members can now receive free membership months, for recommending Victoriana Quilt Designs (Memberships or Patterns) to your quilting friends!
~ ~ ~

Come join our quilting community...Sharing with Quilters!
Quilter Pen Pals & Quilt Charm Swaps pages.
Meet Quilters' from your hometown or around the world!

Quilt Guild Reference List:
This Quilt Guild Reference List is where you will find a list of quilt guilds and groups from all over the world.
If your group is not listed, fill in the details - I would love to add them.

Members Notebook:
This section has news, notes and important reminders for members.
Be sure to read the new entries and reminders every month.

Used Quilt Books for Sale:
Visitors have added new titles available again this month.
Please feel free to list your used quilt books for sale or trade!

Quilting Lessons:
These pages contain links to free quilt lessons, information and how to's that are available online.
This list makes a good quilters online resource for the Beginner Quilter, or anyone needing some refresher information or tutorial on a new quilt technique!

Quilt Tip of the Month:
The newest tip plus a 13 year collection!

Sneak Preview:
Preview of what's coming up in 2015...
~ ~ ~
~ ~ ~
Thank you for visiting...